DANISH ARTIST SOFIA KAYAYA draws upon her Nordic life and Zanzibari roots, when she communicates through the wordless tales of music and the colourful sounds of stories.
On a planet with light and darkness, where one's origin determines the fights in life, she considers it a privilege, not least a responsibility, to be an artist. As a musician, as a storyteller, she passes her time in the world creating a mirror reality – and invites the audience to step inside for a moment, and join her on the ride.
PROJECTS
AGENDA:FLAUTA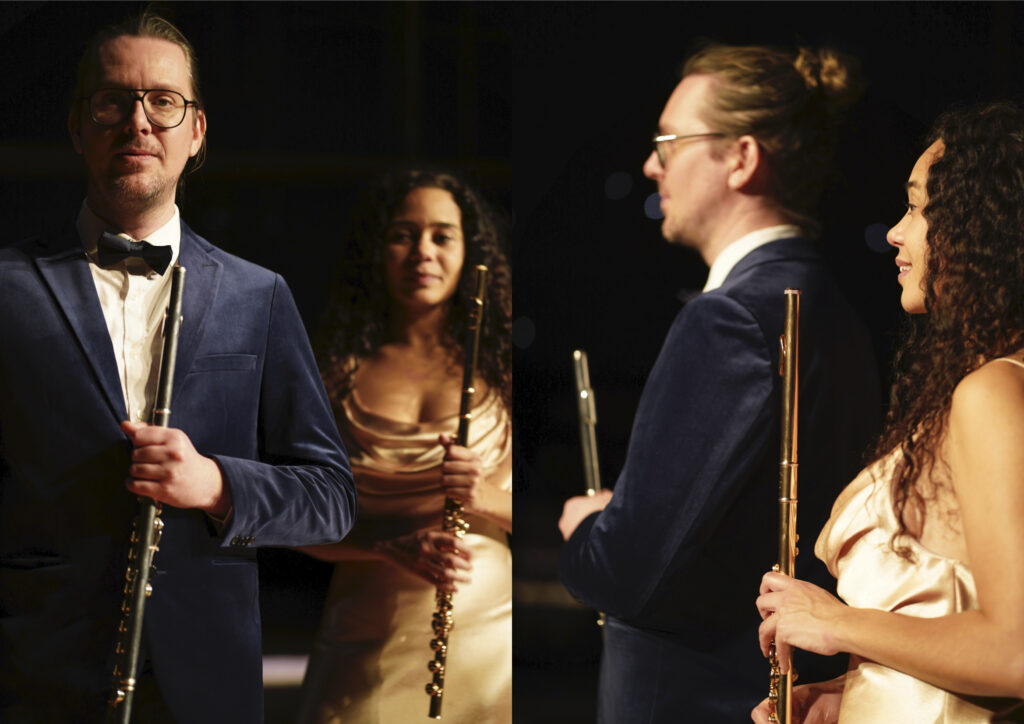 Flute: Julius Ditlevsen and Sofia Kayaya
AGENDA:FLAUTA call attention to the colourful, virtuosic, harmonious, and beautiful repertoire for flute duo, with a mixture of casual fine-art street-elegance. The duo commutes between concert halls and places where people live their lives, and presents the music as a melodious soundtrack to the everyday, often in untraditional venues.
Flautists Julius Ditlevsen and Sofia Kayaya met each other as students at The Royal Danish Academy of Music. After graduation, they explored many genres together, and became colleagues as assistants in the Royal Life Guards Music Band. Today they both are active on the Danish music scene in chamber ensembles and orchestras, as well as in various bands of diverse genres.
Read more about a musically great and versatile creative musician: juliusditlevsen.com
For booking or questions, please go to contact.
Nomade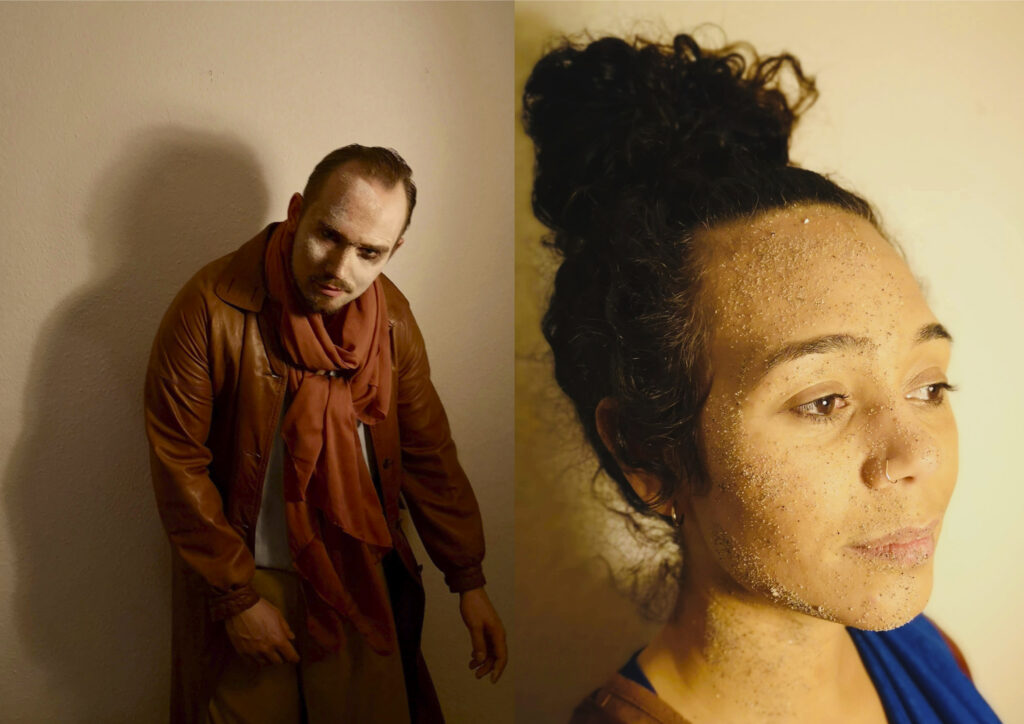 Music Theatre production – work in progress…
Manuscript and staging: Sofia Kayaya
Music: Filip Melo
On stage: Thomas Nielsen (actor, singer), Joy Anna Hall (actress, dancer), Tomas Raae (double bass) Sofia Kayaya (flutes)
Duo Johansen/Kayaya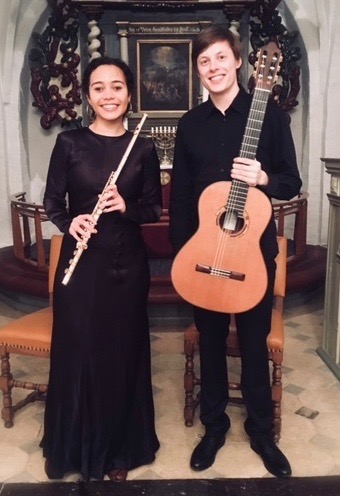 Flute: Sofia Kayaya
Guitar: Niklas Johansen
Flute-guitar duo Johansen/Kayaya are committed to spreading their joy for the classical music. Alongside giving concerts in music societies, churches and festivals, they experiment with the framework for classical concerts and the audience part, and present the music in untraditional venues and to people who don't have the possibility to get to the concert halls.
They are both graduated soloists, and established Duo Johansen/Kayaya in 2010, when they met as students in The Royal Danish Academy of Music, playing Astor Piazzolla's tango music -today they have a broad repertoire from Bach, Schubert and Liebermanns Sonatas to beautiful well-known pieces. Individually they have active careers both internationally and in Denmark.
Warm recommendations to learn more about an absolutely outstanding musician: niklasjohansen.com
For booking or questions, please go to contact.
Amazone Quartet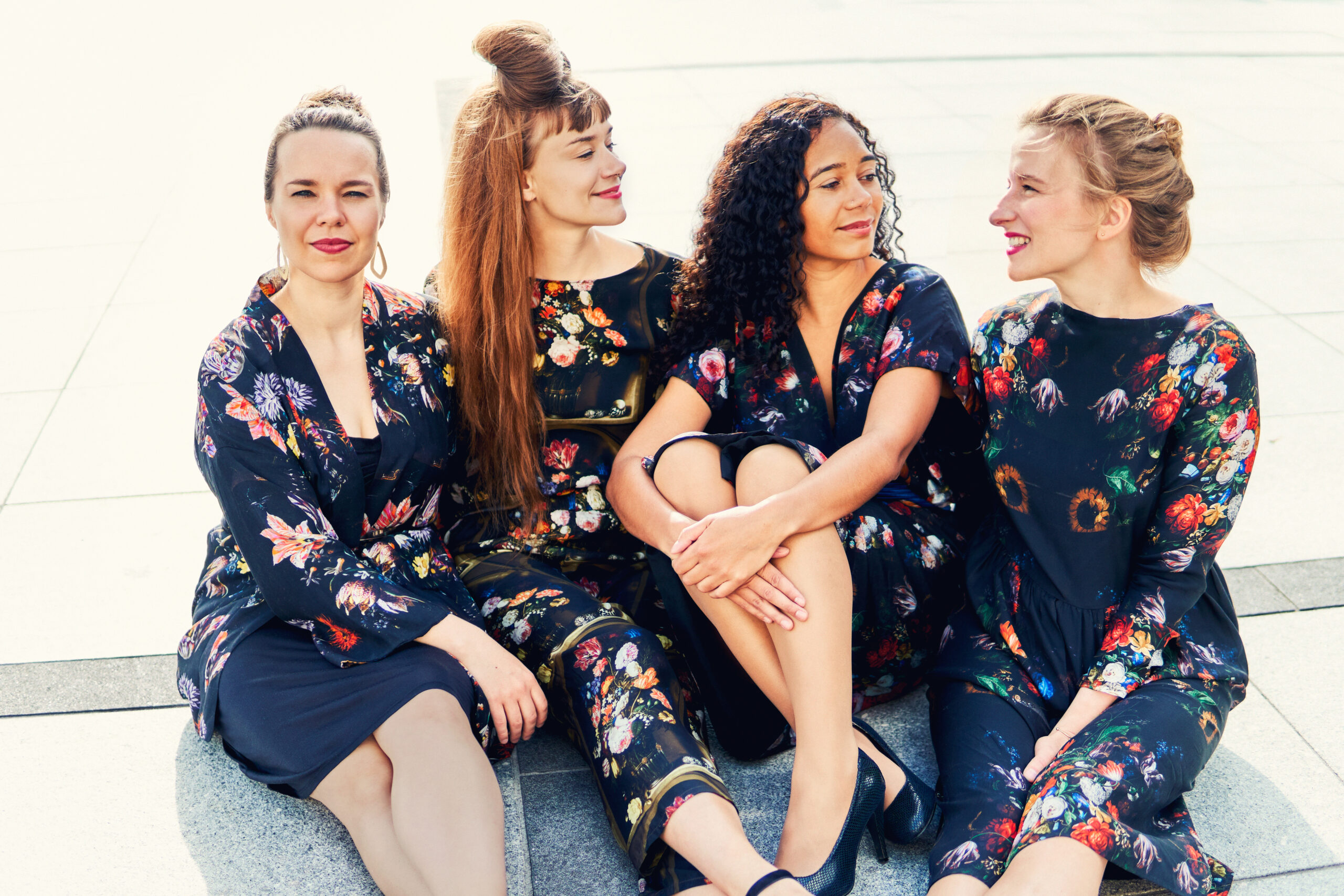 Mezzo-soprano: Nana Bugge Rasmussen
Flute: Sofia Kayaya
Cello: Josefine Opsahl
Piano: Cæcilie Tagmose
For more info, please visit: amazonequartet.com.
From the past:
Leopold von Loppenskjolds Forunderlige Fantasterier
(The Imaginary World of Leopold von Loppenskjold)
Music Theatre production – contemporary classical music presented in a fairytale play.
Aveny-T theater, Copenhagen, 2012.
On stage: Søren Hauch-Fausbøll (Leopold von Loppenskjold), Clara Schade-Poulsen (Klara the girl), Sofia Kayaya (flute), Anna Sairanen (viola), Alexander McKenzie (piano), Ying-Hsueh Chen (percussion).
Manuscript, staging, producer: Sofia Kayaya
Composer, staging: Lasse Schwanenflügel Piasecki
Director: AnnMari Max Hansen
Composers: Ville Raasaka (FI), Gordon Williamson (CA), Ansgar Beste (DE)
Set designer: Jannie Rask
Choreographer: Anne Sofie Trangeled Larsen
Light designer: Jesper Hansen
With support from: Bikuben Fonden, KODA, Dansk Komponistforening, Dansk Musiker Forbund, Information (media partner).
Duo Alex Mendez and Sofia Kayaya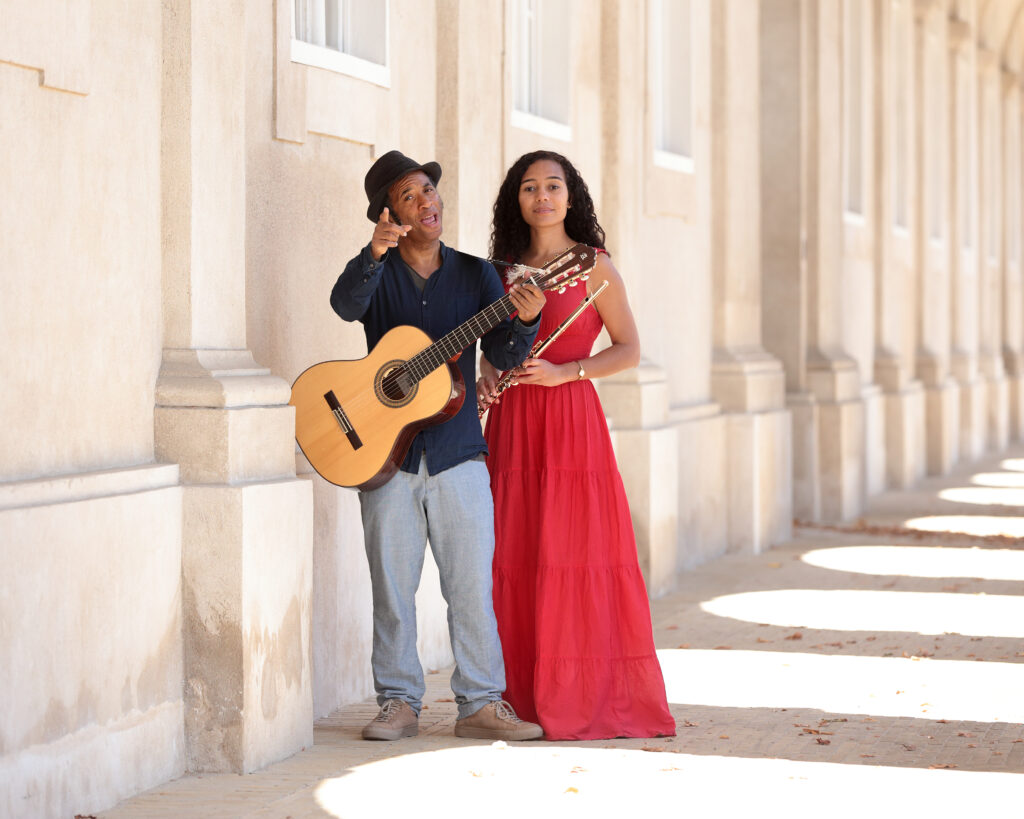 Voice and guitar: Alex Mendez
Flute: Sofia Kayaya
For booking or questions, please go to contact.
ABOUT Sofia Kayaya
Travelling with music
Sofia Kayaya has since a young age traveled the world with her flute. As a soloist, chamber musician and orchestra musician she has performed in destinations such as Finland, Sweden, Germany, Poland, Scotland, Taiwan, China, Burkina Faso and Brazil, and played in festivals such as Klang Festival (Denmark), Beigang International Music Festival (Taiwan), Campos do Jordao International Festival (Brazil), Lodz Jazz Festival (Poland), SV Festival (Denmark), Sonamos Latino America Festival (Copenhagen edition).
The flutist
She holds an Advanced Postgraduate Soloist degree from the Danish National Academy of Music, besides a Masters degree from the Danish Royal Academy of Music, and has studied at Sibelius Academy, Finland, beside private studies in Berlin. The most influential of her mentors counts Petri Alanko (FI), Rune Most (DK), Christina Fassbender (DE), Janne Thomsen (DK), Ingrid Holck (DK), Eva Østergaard (DK), Nanna Kagan (DK).
The musical explorer
The ever continuously exploration of the diversity of the flute, hand in hand with Sofia Kayayas musicianship, has brought cooperations to a broad variety of musical genres. With pop artist Oh Land has she recorded music for the Netflix series The Rain. In cooperation with electronic composer Christoffer Jespersen, recorded music for the computergame Lily's Garden, and for the rockband Radio Galaxy. With Cuban troubadur Alex Mendez dived into the latinamerican music. And besides this, many dedicated projects with contemporary classical composers worldwide.
The storyteller
Sofia Kayaya was at the age of 14 prizewinner at the Berlingske Tidendes Writing Competition, with the short story "Musikkens Eventyr" ("Fairytale of the Music"). Ever since, it has been her mission to communicate stories through writing, impulsive storytelling, and not least staging of classical music. In 2012 she wrote the musical play "Leopold von Loppenskjolds Forunderlige Fantasterier" ("The Imaginary World of Leopold von Loppenskjold"), playing on Aveny-T Theatre, Copenhagen.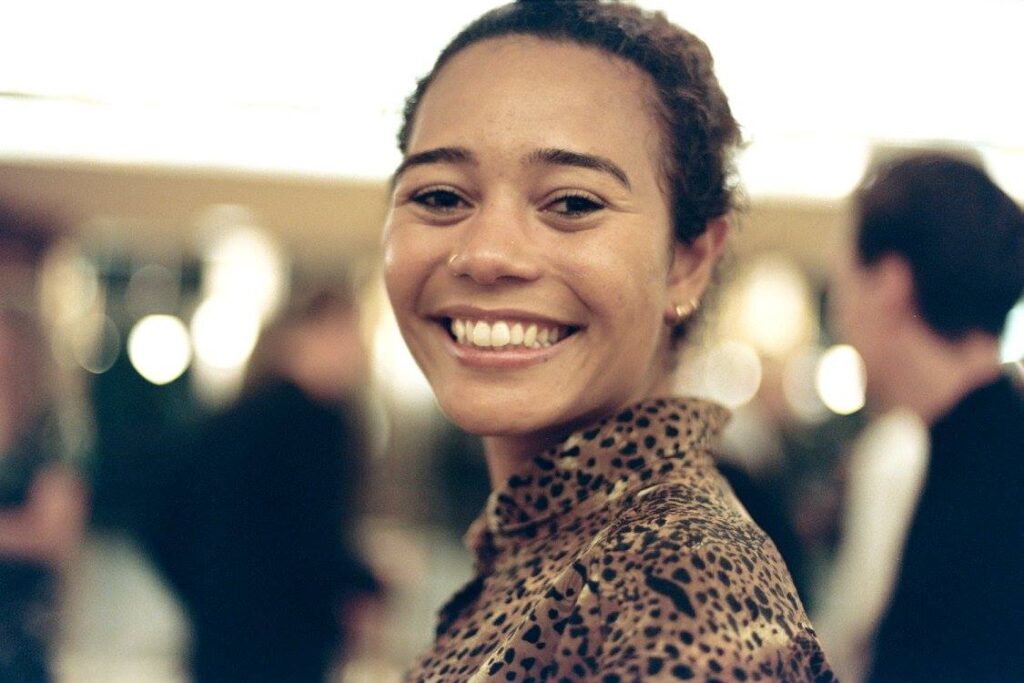 The ensembles
Sofia Kayaya is flute player in the Amazone Quartet and duo Agenda:Flauta, and plays beside this with various musicians and ensembles. She has assisted in Odense Symphony Orchestra, Aalborg Symphony Orchestra and played at Den Fynske Opera, Valdemar Castle Summer Opera, Danish Royal Guards Marching Band, Athelas Sinfonietta, Tivolis Promenade Orchestra, Vendsyssel Theatre, Campos do Jordao Festival Orchestra, among others.
No music without…
Foundations and organisations has generously supported both studies and professional projects. Gratitude to: Nordea Fonden, Dansk Kvindesamfunds Legat, Jørgen Esmers Mindelaget, Bikuben Fonden, KODA, Dansk Komponist Forening, Dansk Musiker Forbund, Else Timmermanns Fond, and Gammel Have Artist Residence.
Sofia Kayaya plays the entire flute family: piccolo, C-flute, alto flute and bass flute. Her main instrument, the love of her life, is a Muramatsu handmade 14K SR gold flute.
MEDIA
Sofia Kayaya
For bookings and inquiries contact:
sofia.kayaya@gmail.com
+45 60 88 83 72